Boat Slips
Boat Slip Availability
SLIPS 23′-43′ Available Now – Please contact the leasing office for slip locations.
Water Monitoring Program
Compliance with Clean Air and Water Act – Analysis of the water in King Harbor Marina will be evaluated chemically especially for fecal and urine contamination. We are appealing to all boat owners and guests of King Harbor Marina to refrain from emptying human wastes and/or other toxins into the water. Hopefully, we can avoid engaging a pump-out service with dye tabs. Again, we are appealing to all boat owners and guests to refrain from dumping all toxic items into the marina and avoid ensuing further charges. r8.5.22
General Information
King Harbor Marina has received the Clean California Marina designation from the California Clean Marinas Program.  It's all here – great location, clean environment, quality service and a lot more. We have docking accommodations for vessels up to 83 feet long.
Each boat slip features a storage locker plus power, water, telephone and cable TV hook-ups. Other amenities include tenant lounges, hot shower and laundry rooms, mailboxes, landlockers, dinghy racks and plenty of secured parking. Other boating services include two yacht clubs, a marine hardware store, a fuel dock, and free pump out station.
Maximum Boat Length
You must comply with the below drawing since the rental agreement may be cancelled and/or additional charge will be made for berthing an oversized boat in slip.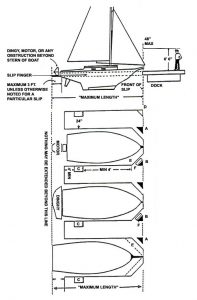 Map Keys:
A = Dock Box
B = Additional dock boxes by owner with permission
C = Dock Steps
D = End Tie Dock Box
E = Storage of Dinghy, Planks
Amenities
Tenant lounges, laundry rooms, mailboxes, restrooms, and beautiful shower facilities
Land lockers, dinghy racks, secured parking
King Harbor Yacht Club and Redondo Beach Yacht Club
King Harbor Marina Center offers full service boat repair and a marine hardware store
Fueling Dock and Pump-out station services
Security
Wireless Internet ready
Rules and Regulations
Click on link below to review the Boat Slip Rules and Regulations
Boat Slip Map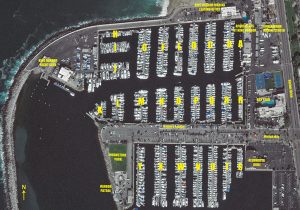 FAQs
What if I have a billing inquiry?

Send an e-mail to billing@kingharbor.com. You will usually get your answer the same day or the next morning.
What are the requirements to be on your boat slip waiting list?

We currently have a waiting list for most slip sizes. To be on our waiting list, we require a credit application, signed waiting list agreement, and a refundable $100 deposit. This deposit is also applicable to your move-in costs once called from the list.
Do you have boat launching facilities?

There is no boat launching ramp in King Harbor. However, the Redondo Beach Marina has a boat lift that can lower your boat into the water for a small fee.
How is the security on your property?

We have a security guard on duty daily who monitor the leasehold 24/7. We cannot be everywhere at once, therefore, we also rely on our tenants to report any suspicious activity to the Redondo Beach Police Department.
If I have a maintenance request, what do I do?

Simply contact our office. We pride ourselves on our excellent full-time maintenance staff. They can usually get to your maintenance request the same day, if not the next day. Maintenance requests made on a Sunday will be responded to on the next day.
How many nights am I allowed to stay aboard without liveaboard status?

You are allowed nine (9) nights per month.
Do you prorate the rent for partial months?

Vacate dates ending on a date other than the last day of the month will be prorated based on a thirty (30) day month.
What are your office hours?

Our office is open for business 7 days a week – Monday through Friday from 9:00 AM to 6:00 PM, Saturday and Sunday from 9:00 AM to 4:00 PM.
Do you allow liveaboards?

No. We are no longer accepting liveaboards.
What are the amenities that come with a boat slip?

Two transferable parking permits, dockbox, fresh water, and access to tenant lounges and laundry facilities are included. Electricity is metered and billed separately.
What are the move-in requirements?

Good credit is essential. All prospective tenants must pass our credit check/screening. For a boat slip, we require current registration or Coast Guard Documentation in your name, an Insurance Certificate providing $100,000/$300,000 liability insurance and $50,000 accident/property damage covering King Harbor Marina, Inc. and the City of Redondo Beach as additional insured, first month's rent, plus two (2) month's rent (to be held as security deposit).
If I plan to vacate my space, what kind of notice do you require?

We require a standard thirty (30) day written notice after any committed term of occupancy.
Forms
Credit Application
Checklist
Rental Inquiry Form
Waiting List Agreement