Boat Slips
Boat Slip Availability
Available now: 26′ – 27′ slips. Please contact the leasing office for slip locations.
General Information
King Harbor Marina has received the Clean California Marina designation from the California Clean Marinas Program.  It's all here – great location, clean environment, quality service and a lot more. We have docking accommodations for vessels up to 83 feet long.
Each boat slip features a storage locker plus power, water, telephone and cable TV hook-ups. Other amenities include tenant lounges, hot shower and laundry rooms, mailboxes, landlockers, dinghy racks and plenty of secured parking. Other boating services include two yacht clubs, a marine hardware store, a fuel dock, and free pump out station.
Maximum Boat Length
You must comply with the below drawing since the rental agreement may be cancelled and/or additional charge will be made for berthing an oversized boat in slip.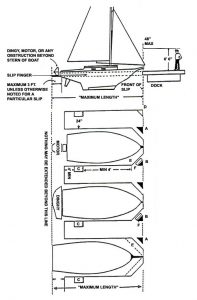 Map Keys:
A = Dock Box
B = Additional dock boxes by owner with permission
C = Dock Steps
D = End Tie Dock Box
E = Storage of Dinghy, Planks
Amenities
Tenant lounges, laundry rooms, mailboxes, restrooms, and beautiful shower facilities
Land lockers, dinghy racks, secured parking
King Harbor Yacht Club and Redondo Beach Yacht Club
King Harbor Marina Center offers full service boat repair and a marine hardware store
Fueling Dock and Pump-out station services
Security
Wireless Internet ready
Rules and Regulations
Click on link below to review the Boat Slip Rules and Regulations
Boat Slip Map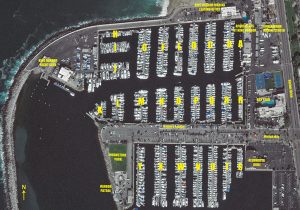 FAQs
Forms
Credit Application
Checklist
Rental Inquiry Form
Waiting List Agreement